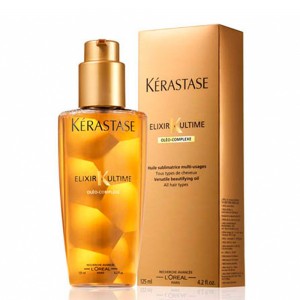 Kerastase Ultime Elixir is suitable for all hair types. However, it is recommended mainly for dry and damaged (because of frequent dyeing) hair, which are often exposed to hair styling procedures. Its main asset is the fact that the product deals with even super unruly hair. Thanks to natural substances included into composition, the product nourishes and improves condition of hair. Application of Kerastase Ultime Elixir is very easy and the treatment brings out outcomes almost immediately.
Features. Kerastase Ultime Elixir hair oil is designed for styling women's hairdos. It is famous for smoothing and gifting hair with shine. It improves condition of strands by working inside and outside hair structure. It strengthens hair roots as well. Thanks to this cosmetic, hair looks as if it was healthier, prettier and stronger. The great advantage of the product is that it does not weight down strands nor leaves oily and sticky layer on. Instead, it gets absorbed the moment applied. Kerastase Ultime Elixir can tame frizzy and static hair.
It can be also used as a preparation shielding hair against working of solar radiation, low temperatures and urban pollution.
Composition. The composition of Kerastase Ultime Elixir includes natural oils. These are corn oil, argan oil, pracaxi oil and Camellias oil. The first oil has nourishing and hair structure regenerating features. Argan oil provides protection from UV radiation and harmful substances deriving from external environment. The third oil, pracaxi oil, supports resistance of hair, strengthens its cells and scalp. Camellias oil gifts hair with shine and makes it look healthy and beautiful.
Application. Kerastase Ultime Elixir hair oil can be applied in three ways. If applied on damp hair, before styling, facilitates combing and prevents tangling. If applied on already styled hair, it provides healthy shine. The third method of application can be used for typical, day-to-day care: the cosmetic has to be applied to the length of hair.
Package. The hair oil is closed in a 125 ml bottle featuring a pump. Kerastase Ultime Elixir is extremely efficient since the amount enables using the product for two years, even when applied regularly.
Fragrance and colour. Kerastase Ultime Elixir has delicate, flowery scent, which makes our hair perfumed. This pleasant scent holds on hair all day long. The product is transparent and stain neither clothes nor scalp.