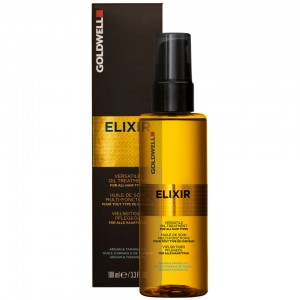 Goldwell Elixir Versatile Oil Treatment is recommended for all hair types, starting from normal through dry and damaged ending at dull, frizzy and lighted-up ones. Its main asset is ability to regenerate damaged and weakened hair. Owning to the natural ingredients, the product provides complex revival of hair condition as well as protection from damaging mechanical influences.
Features. As mentioned before, Goldwell Elixir Versatile Oil Treatment has regenerative action. It rebuilds damaged hair because of frequent dyeing, heat styling or application of mismatching products. What is more, it nurses hair that lacks of shine, frizzy, unruly and not easy manageable. Additionally, the product has moistening, smoothing and strengthening working. Goldwell Elixir Versatile Oil Treatment is able to lock in moisture in such a quantity which is required for proper growth of hair. After application of the oil, strands become smooth and soft to the touch, become more intensive in shine, as are nourished and reinforced. Furthermore, the cosmetic improves combability as well as protects strands against mechanical damages caused by, for example, unskilful brushing.
What is also crucial to mention, the oil does not clump hair together. Instead, it gets absorbed promptly.
Composition. Goldwell Elixir Versatile Oil Treatment contains ingredients that takes care of hair and scalp. These are argan oil and Tamanu oil. Argan oil is a natural anti-oxidant, it delays hair ageing processes and protects strands against working of aggressive external factors. Moreover, it contains E vitamin and unsaturated fatty acids. When it comes to Tamanu oil, it accelerates rebuilding process of damaged hair and aids with fighting against different skin ailments, including dandruff.
Application. Goldwell Elixir Versatile Oil Treatment can be applied two ways. If put on damp hair, it provides shine and smoothness. What is more, it protects strands from damages and makes combing easier. When applied on dry hair, the product gifts hair with shine and tames hard to manage strands. The quantity of a dosage has to go hand in hand with length of hair, its type and level of damage. It has to match scalp type as well. In most cases, two or three pumps are enough for a single application.
Package. Goldwell Elixir Versatile Oil Treatment is closed in a 100 ml bottle. The package features a pump which makes application easy and fast.
Fragrance and colour. Goldwell Elixir Versatile Oil Treatment has a peasants scent, which is why, hair is coated with the aroma all day. The cosmetic is transparent, which means, that it does not stain scalp nor clothes.