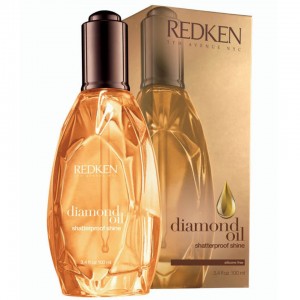 Redken Diamond Oil is recommended for damaged and super damaged hair, the one that lacks of shine. Owning to the natural ingredients, the cosmetic works efficiently in terms of providing nourishment as well as taking care of both hair and scalp. The dropper makes each application easier and light consistency conduces fast absorption of the product. These two characteristics result in bringing out almost immediate outcomes.
Features. Redken Diamond Oil has regenerating and moisturising action. Additionally, the product fortifies, adds shine and smooths strands. It can be applied during heat hair styling since it counteracts dehydration, keratin loss and general deterioration of strands. What is more, the product can be also useful for styling each, even the most sophisticated and complicated hairdos. Furthermore, the product prevents static and frizz as well as protects against harmful working of low temperature and solar radiation. Applied directly to hair ends, it creates a shielding coat which counteracts splitting and dehydration.
Thanks to regular application, hair looks healthier, prettier and stronger.
Composition. Redken Diamond Oil does not contain any silicones or other artificial ingredients. Its composition is made from natural substances only – peach oil, Camelina sativa oil and parsley oil. The first oil penetrates deep through all hair layers, providing shine and regeneration. Camelina sativa oil has hair smoothing and softening action. The last oil (parsley) gifts hair with shine as it takes care of peripheral structure of strands. All of the above-mentioned ingredients take care of scalp and hair roots too.
Application. Just two or three drops are enough to take care of hair entirely. The cosmetic has to be warmed up on palms of the hands. In this way, the oil becomes more liquid in form, which aids application. What is more, in this way, the oil will get absorbed faster. The product is supposed to be applied to the mid-lengths working way to ends. Actually, Redken Diamond Oil can be blended with a hair mask just to make regenerating process enhanced. It is also suggested using the oil along with a shampoo so as to cleanse scalp more efficiently. Moreover, if applied on damp hair, it facilitates detangling and blow-drying and when applied to dry strands, it provides shine and smooth as it counteracts frizz and static.
Package. Redken Diamond Oil is closed in a 100 ml, diamond-shaped bottle. The bottle features a dropper, which aids process of application.
Fragrance and colour. Redken Diamond Oil is transparent. It contains golden particles, which make hair radiant as well as they provide delicate shine. The cosmetic contains pleasant scent that stays on hair fairly long.