The best hair oil – only by Nanoil
Nanoil is not just one cosmetic but a whole range of products among which every woman will surely find the right oil to suit her needs. The choice is wide because apart from pure natural oils – which are perfectly suitable to take care of hair, face, body and fingernails – there are also three specially developed blends that correspond to three hair types – the blends answer hair needs, match hair condition and degree of damage.
Nanoil for low porosity hair – heavy, flat, greasy, volume-deprived.
Nanoil for medium porosity hair – prone to thinning, weak, sensitive, matte and frizzy.
Nanoil for high porosity hair – dry, brittle, damaged, rough and without vitality.
How to match one of the above-mentioned versions of Nanoil hair oils to you hair?
Actually, all that you have to do is run the hair porosity test which is available on the official Nanoil website. It consists of a few questions concerning your hair care routine and condition of your strands. Once you get the result, you can buy a particular oil and… start your new hair beauty treatment. Sometimes determining hair porosity type can be done just by analyzing their descriptions, which are also available on the website.
Are you looking for a multi-task cosmetic that can be used to take care of your hair, skin and nails? If you are a natural D.I.Y. cosmetic fan, then you will surely get along with pure, organic Nanoil oils. Thanks to them you will not only condition hair but also your entire body.
Nanoil offers six natural beauty oils of high quality. All oils are 100% organic, natural, cold-pressed and unrefined. Also, Nanoil oils carry the label of Ecocert which proves their high quality and puts them into the group of versatile premium products.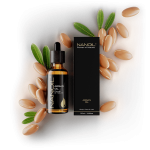 Nanoil Argan Oil – it has over 100 active substances and just right EFAs balance – this is a versatile rejuvenating elixir that improves condition and appearance of hair; it also accelerates hair growth. Argan oil delays hair loss, regenerates nails, increases elasticity, moisturizes and protects epidermis, reduces wrinkles and cures acne.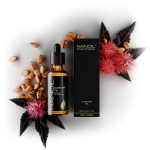 Nanoil Castor Oil – it is found perfect for treating weakened eyelashes, eyebrows and hair. Thick oil, effective and suitable for being used as a nourishing nail serum. When combined with other oils for OCM, castor oil leaves skin clean and replenished with water. Castor Oil by Nanoil is the easiest way to get shiny, soft and voluminous hair that becomes naturally darker. Also, the oil is responsible for closing hair cuticles and reducing the number of split hair ends. Finally, Castor Oil is known for accelerating hair growth.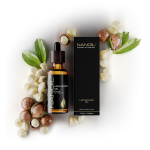 Nanoil Macadamia Oil – incredibly lightweight oil of very high absorption rate. Perfect for being applied before a face cream or treated as a daily portion of EFAs. Macadamia oil also equals increased heat protection and an intensive regeneration for frizzy hair that lacks shine and vitality. It can be used for hair oil treatment, as a conditioner/balm booster or as a massage oil. Macadamia oil is rich in vitamin A, B-group vitamins, fenoles, lecithin and mineral substances.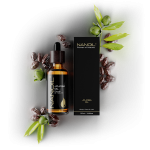 Nanoil Jojoba Oil – it is a liquid wax of a really high quality that is characterized by a high concentration of squalane – a constituent of human sebum. Jojoba oil maintains sebum production and combats seborrhea. At the same time, the oil rebuilds hydro-lipid barrier in dry skin. Jojoba oil is recommended to be applied to fight back acne and dandruff. Also, Jojoba Oil reduces greasy hair and combats excessive dryness of hair and scalp.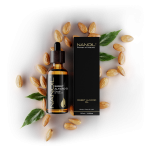 Nanoil Sweet Almond Oil – exceptionally gentle oil of strong medicinal and soothing properties. It can be applied to cellulite, stretch marks, diaper dermatitis as well as skin irritations caused by shaving and sunbathing. Almond oil is found perfect as a family oil. Apart from that, almond oil displays strong anti-aging qualities; after all, this oil offers a high concentration of vitamin E, also known as vitamin of youth. Additionally, this oil contains mineral salts, proteins, magnesium and vitamins A, D, B.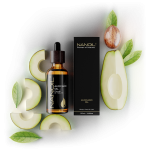 Nanoil Avocado Oil – perfectly moisturizes and nourishes all skin types, even hypersensitive one. It makes skin more supple and increases hair bounciness. Avocado oil is the oil that offers the highest concentration of vitamins. To demonstrate, it features vitamins A, E, C, thiamine (vitamin B1), riboflavin (vitamin B2), niacin (vitamin B3), pantothenic acid (vitamin B5), pyridoxine (vitamin B6), as well as folic acid, this precious for hair and nails biotin and choline. It is worth mentioning that avocado oil protects mitochondria present in our cells and neutralizes free radicals. This oil rejuvenates, soothes skin, moisturizes (owing to the combination of unsaturated fatty acids and fibrillary protein) as well as makes sure that skin looks fresh.
What determines that Nanoil Hair Oils are so highly-rated?
Nanoil beauty oils are the highest quality products. They are obtained due to cold pressing process, remain unrefined and extracted in such a way to let them preserve the highest concentration of vitamins and other – very characteristic for a particular oil – nourishing substances. It is worth realizing that each oil used in Nanoil is certified by Ecocert, which proves the efficiency and quality of the ingredients. Nanoil oils receive positive reviews and are one of the most frequently recommended beauty oils.