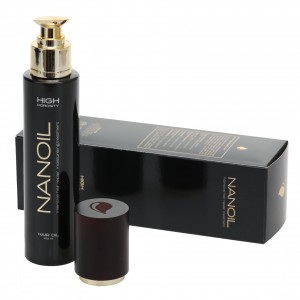 Nanoil hair oil is an exceptional cosmetic which will pamper hair of each of us. There are three versions of the product available, and these are Nanoil For Low Porosity Hair, Nanoil For Medium Porosity Hair, and Nanoil For High Porosity Hair. Each of these cosmetics will take care of strands and the scalp in an equally effective way. You'll see that every single application can give you sheer pleasure as the effects are going to be outstanding.
Features. The action and features of the cosmetic vary accordingly to the version of the oil that matches a particular hair type. Nanoil for low porosity hair will be useful during hair styling as well as for daily hair care. Moreover, it'll provide the increased volume to a hairdo, prevent greasy scalp and rebuild the damaged hair ends. Furthermore, the cosmetic has a light formula which is non-overburdening, yet it penetrates hair fast without leaving it clumped togeher. The second version of Nanoil designed for Medium Porosity Hair has universal application, too. The cosmetic counteracts dehydration, frizz and excessive hair loss. It maintains the scalp's pH at the right level, restores shine to the dull strands as it makes hair easy to comb. When it comes to Nanoil For High Porosity Hair, it improves the condition and looks of the hair. It smooths hair affected by static and frizz, it provides proper moisture to the scalp and nourishes hair bulbs. Nanoil will provide damaged hair with protection against the damaging external factors.
Composition. In short, it depends on the particular version of Nanoil. To demonstrate, Nanoil For Low Porosity Hair contains the following ingredients: Siberian Pine Oil, Coconut Oil, Argan Oil, Castor Oil, Shea Butter, Maracuja Oil, Babassu Oil, Monoi Oil, Cupuacu Oil. We can also find there Kerastim, Baicapil, vitamins A and E, pantheon, and UV filter. When it comes to Nanoil For Medium Porosity Hair, it's made from Macadamia Oil, Argan Oil, Marula Oil, Jojoba Oil, Maracuja Oil and Coconut Oil. The product also contains silk, UV filter, vitamins A and E, Kerastim and Baicapil. The oil designed for High Porosity Hair contains the blend of Almond Oil, Argan Oil, Evening Primrose Oil, Avocado Oil, Maracuja Oil and Cotton Seed Oil. Additionally, the cosmetic includes pantheon, keratin, lanolin, silk, vitamins A and E, Kerastim, Baicapil, and UV filter.
Application. Nanoil hair oil can be put on hair in a few ways. Apply the product before or after hair washing, as an individual product or combined with other hair care cosmetics, to the hair ends or to the scalp, a few times per week or a few times per day. Pick the best method for you and enjoy the outcomes.
Package. Each of the Nanoil version is closed in a glass bottle of 100 ml capacity. The application is facilitated thanks to the pump dispenser. The phial with the oil is hidden in a cardboard box.
Fragrance and colour. Nanoil hair oils are colourless. Their fragrance is pleasant and will surely stay on your strands long.