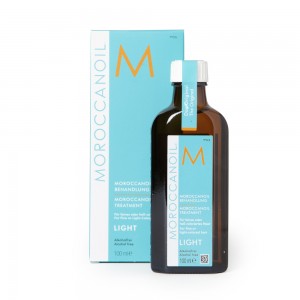 Moroccanoil® Light Oil Treatment is designed for all hair types, especially for the lighted-up strands. It has nourishing features and can be used for styling hairdo. What is more, it contains natural ingredients which additionally take care of hair and scalp's condition. When it comes to consistency, features and manner of application, they are similar to Moroccan oil – it is also concordant with particular hair needs.
Features. Moroccanoil® Light Oil Treatment has nourishing, glossing and regenerating features. Formula of the cosmetic is designed in such a way to heal lighted-up hair (platinum hair, fair blonde, ashen hair, etc.), as well as fine and delicate hair. What is more, the oil can be used for styling and setting hair. It smooths perfectly and gives shine to hair by taking care of them at the same time. The cosmetic contains ingredients which protects hair roots, scalp and hair against damaging working of external factors. Moroccanoil® Light Oil Treatment eases combing, softens and prevents split ends.
Additionally, the product creates a shield against UVA and UVB radiation.
Composition. Moroccanoil® Light Oil Treatment contains, among others, silicones, common linseed extract and argan oil. The aim of silicones depends on transporting active substances deep into hair structure. Linseed extract supplies hair with smoothness and shine as it provides moisture and nourishment. However, the most important ingredient is argan oil. It contains a huge dosage of E vitamin, which is responsible for protection against free radicals that cause premature ageing of hair structure. Moreover, it works regenerating, easing and antiseptic. It can be helpful with fighting against dandruff and dehydrated hair.
Application. Moroccanoil® Light Oil Treatment has to be applied on slightly damp hair. The cosmetic has to be rubbed into mid-lengths to the very ends. What is more, the product can be applied on dry hair as well. In this way, we will provide strands with shine and protect hair against dehydration and splitting. Interesting manner of Moroccanoil® Light Oil Treatment application is adding a few drops of it to a hair mask. Such a mixture gifts hair with maximum smoothness and nourishment.
Package. The hair oil is closed in a 100 ml bottle made of dark glass. Unfortunately, the bottle does not go with any pump or pipette, therefore some people might be discouraged by the manner of getting the oil out of the bottle. On the other hand, the pump can be bought separately which can help some people with the application.
Fragrance and colour. Moroccanoil® Light Oil Treatment has a beautiful gold colour. It has pleasant scent, which lingers long on hair.