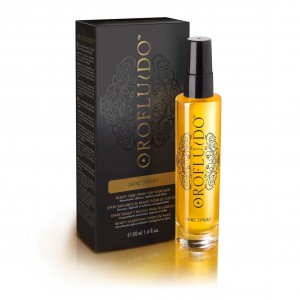 Orofluido – Original Beauty Elixir is designed for all hair types care. Owning to natural substances, it is also able to take care of scalp. It counteracts the majority of common hair problems such as split ends, dandruff or damage caused by long exposition to the sun or frequent styling procedures. Silicones, which are present in composition of Orofluido – Original Beauty Elixir, enable faster penetration of active substances and, at the same time, provide nourishment of strands.
Features. Orofluido – Original Beauty Elixir has light consistency, therefore, it does not weight hair down nor makes hair greasy. Additionally, strands are silky smooth and soft to the touch. The product prevents frizz, static and dehydration of hair. It is fast to get absorbed, which is why, active substances might take care of strands and scalp way better. Moreover, the cosmetic may be useful for hot hair styling, no matter if the procedure is performed at home or at a hairdresser's. One of the most important features of the product, it is able to protect strands from UVA and UVB radiation, and ends from splitting.
What is more, when applied on damp hair, the oil facilitates combing and counteracts tangling.
Composition. Orofluido – Original Beauty Elixir contains vital for hair health ingredients such as argan oil, papyrus oil and linseed oil. The first oil provides deep nourishment and regeneration to damaged hair. It has anti-oxygenating action as it protects against working of solar radiation, low temperature and other damaging external factors. What is more, the product also defends hair against artificial substances which are included in some shampoos', conditioners' and hair masks' compositions. Papyrus oil contains fatty acids which provide moisture and protection against free radicals. When it comes to linseed oil, it smooths, softens and gifts hair with shine.
Application. Orofluido – Original Beauty Elixir can be applied on both dry and damp hair. Suffice to distribute a few drops of a cosmetic that have to be rubbed into strands. Obviously, the quantity of the dosages depends on length, thickness and type of hair. The product does not have to be rinsed off, yet leaved in.
Package. Orofluido – Original Beauty Elixir is closed in a glass and transparent bottle. It is available in 25 ml and 100 ml (the smaller version covers a six-month treatment). The package is not featured with any applicator (neither pump nor dropper).
Fragrance and colour. Orofluido – Original Beauty Elixir has a warm, yellow colour. It has pleasant, vanilla fragrance that coats hair precisely.