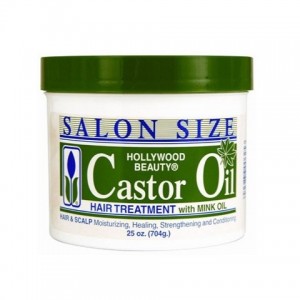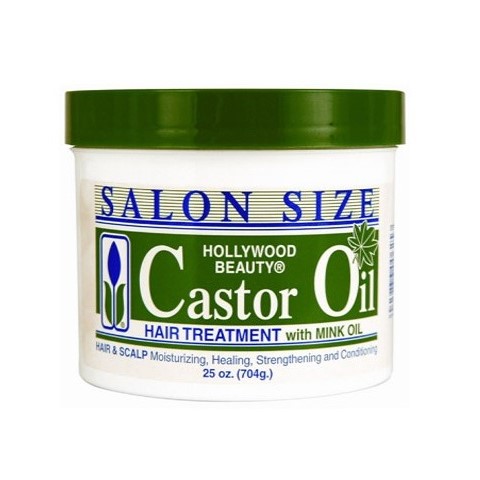 Castor Oil Hollywood Beauty is recommended for stimulating hair growth. It contains a lot of natural ingredients thanks to which both scalp and hair become healthy, strong and beautiful. It is the only oil in this ranking having solid consistency. Obviously, manner of application also differs.
Features. Castor Oil Hollywood Beauty accelerates hair growth. Within a month, one can notice that their hair has become about even 5 cm longer. Moreover, the cosmetic has to be applied on scalp only – it does not make hair greasy. What is more, the product has nourishing, softening and smoothing action. Strands turn into being more pleasant to the touch, tamed and shiny if treated with Castor Oil Hollywood. Unfortunately, the oil cannot be used for split ends treatment nor it can be used as a product shielding against hot temperature produced by hair styling devices.
For that very reason, it is hard to use the cosmetic for hair styling or combing.
Composition. Castor Oil Hollywood Beauty is composed of castor oil, jojoba oil, E vitamin, aloe extract, almond oil, safflower oil, lanoline and coca butter. Thanks to the ingredients, the cosmetic pampers scalp deeply. Again, as the only one in the ranking, Castor Oil Hollywood Beauty includes a small quantity of mink's fat – animals that come from certified breeding.
Application. Castor Oil Hollywood Beauty should be applied everyday on slightly damp or dry scalp. After an hour, the cosmetic has to be rinsed off using a silicon-free shampoo. What is crucial, the product must not be applied on hair because it may damage strands considerably. If the cosmetic gets to eyes, they have to be rinsed off immediately. The only difficulties with removing the oil can be encountered when the cosmetic is applied directly on hair. The strands might get too greasy and weighted-down. Warming up the cosmetic on palms of the hands facilities applying and accelerates absorption.
Package. Castor Oil Hollywood Beauty is closed in a white-and-green jar. The capacity equals 213 grams. The product is fairly efficient since it covers a few-month treatment.
Fragrance and colour. Castor Oil Hollywood Beauty has white colour and rather dense consistency. The fragrance is pleasant and fresh.