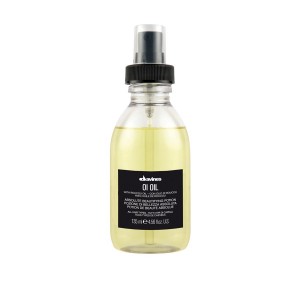 Davines Oi Oil is recommended for taking care of all hair types. It is a professional product because many experienced hairdressers tend to use the product for hair treatments. Therefore, the product cannot be bought in regular shops but only in shops selling goods for hairdresser salons.
Features. Davines Oi Oil has moistening and glossing features. Thanks to regular application, hair becomes more and more prettier, healthier and shiny. What is more, the cosmetic takes care of the inner structure of hair. It provides protection against free radicals, solar radiation and other impurities coming from external environment. Furthermore, the product protects hair against dehydration, damages, split ends and static. If applied on damp hair, it facilitates blow-drying, protects against hot air and improves combability. It can be used as a shielding preparation during holidays – it can armour hair against working of salty seawater.
Composition. Davines Oi Oil contains two basic ingredients, which take care of scalp and hair in a complex way. These ingredients are Roucou oil and breathable silicones. The first ingredient, also known as annatto oil, takes care of peripheral structure of hair, has protective action as it makes strands more flexible. When it comes to breathable silicones, they create a kind of a protective coat around each and every hair.
They are crucial for transporting nourishing substances to the hair roots and inner parts of hair.
Application. Davines Oi Oil can be applied on damp and dry hair. If applied on damp hair, it has to be wrapped with a towel, just to let all the ingredients get absorbed faster thanks to produced warmth. The number of dosages depends on length of the hair. To illustrate, three pumps are recommended for waist-length hair. Short hair needs only one push of the product. What is more, the cosmetic is perfect for conditioning ends – just a small portion of it is enough to protect hair ends.
Package. Davines Oi Oil is closed in a 135 ml bottle. The package features a pump dispenser which aids the application. The bottle is made of transparent material therefore, we are able to observe level of the product's consumption. Additionally, Davines Oi Oil is a very efficient product – we can coat our hair with it for two years, even if regularly used.
Fragrance and colour. Davines Oi Oil has a fair yellow colour. It has a delicate, vanilla scent.