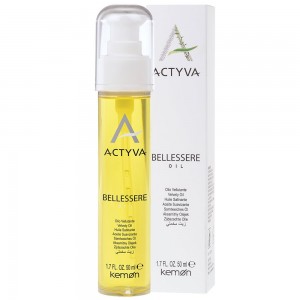 Kemon Bellessere Oil is designed to all hair types. The cosmetic is a combination of a few natural oils, which regenerate and nourish hair. The product has light consistency, does not weight hair down nor clump hair together. The pump, the product is featured with, eases application and makes everyday hair care pleasant and simple.
Features. Kemon Bellessere Oil is recommended for all hair types, regardless of hairstyle, length, shape or porosity level of strands and scalp type. It was designed in order to bring the natural beauty of hair out. The cosmetic prevents static and frizz of hair. It also facilitates moisture and nourishment. Moreover, the product provides lustre and smoothness. It makes hair soft to the touch. When applied to damp hair, the oil aids combing and prevents tangling. What is more, Kemon Bellessere Oil has light formula which does not deprive hair of its natural volume, does not clump hair nor leaves scalp greasy.
Last but not least, the cosmetic has got relieving and protective features, therefore it can be helpful while treating hair and scalp ailments.
Composition. Kemon Bellessere Oil contains two precious ingredients: argan oil and flaxseed oil. The first ingredient is reach in E vitamin and Omega-6 acids, due to which, the product is good at nourishing and rebuilding hair as it takes care of scalp. Flaxseed oil has moistening, protective and hair elasticising action. Moreover, it gives radiance and smoothness to hair. Both, argan oil and flaxseed oil help with eliminating minor scalp ailments and problem of greasy hair.
Application. Before applying the product has to be shaken. Kemon Bellessere Oil can be used everyday or just as a subsidiary product enhancing a regular hair regenerating treatment. Two pumps of the dispenser are enough to coat hair with the oil. But first, the oil has to be warmed up on palms, and then applied on hair starting from mid-lengths and ending at ends.
Package. Kemon Bellessere Oil is closed in a bottle featuring a pump. The package stores 125 ml of the cosmetic, which covers plenty of applications.
Flavour and colour. Kemon Bellessere Oil has freshen-up and energizing flavour that holds on hair throughout whole day. The product has a pale yellow colour.