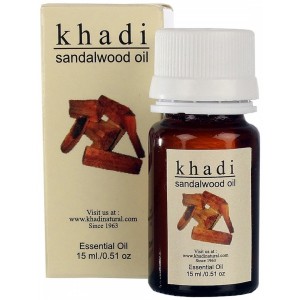 Khadi Herbal Hair Growth Oil is recommended for hair that can be described as weak, brittle and with tendency to falling out too excessively. It can be used as a hair growth stimulating preparation. It contains natural substances that take care of both strands and scalp. An easy-to-use pump and, in consequence, simple manner of application, make the treatment with Khadi Herbal Hair Growth Oil pleasant to conduct – it produces looked-for results in a form of longer and stronger hair.
The oil was not tested on animals, therefore, the product is suitable for vegans and vegetarians.
Features. Khadi Herbal Hair Growth Oil is designed for special hair care. It stimulates hair growth as it strengthens hair roots. Natural ingredients provide regeneration, moisture and flexibility to hair. However, the most important task of the cosmetic is stimulating hair to growth. What is more, the oil prevents premature hair loss and greying. Additionally, it protects natural colour of strands and counteracts split ends. Khadi Herbal Hair Growth Oil has antiseptic action, prevents skin infections and other common ailments (i.e. dandruff, greasy hair, etc.). Moreover, the product makes hair more manageable and improves its combability.
Composition. Khadi Herbal Hair Growth Oil contains ingredients coming form organic farming only. These are sesame oil, coconut oil, castor oil, rosemary oil, and carrot seed oil. Moreover, the composition includes a few substances originated from India such as Indian gooseberry (alma), sida cordifolia (bala), eclipta prostrata (bhringaraj) and bacopa crenata (brahmi). All the ingredients provide nourishment and reinforcement as well as maintain good condition of hair. The oil does not contain artificial colourants nor paraffin.
Application. Khadi Herbal Hair Growth Oil is supposed to be applied twice or three times per week. The treatment conduced in this very way guarantees the best possible results. A tea spoon of the oil has to be massaged into scalp and rinsed after approximately two hours. To make the treatment even more efficient, it is advisable to give a massage to the scalp. Such a procedure will not only accelerate absorption of the product but also will boost blood circulation and strengthen hair roots.
Package. Khadi Herbal Hair Growth Oil is closed in a 100 ml bottle. The package features a dropper which makes the application easier. Basically, the oil can be also poured directly from the bottle onto palm of a hand.
Fragrance and colour. Khadi Herbal Hair Growth Oil has a fair yellow colour. It has pleasant, herbal scent.