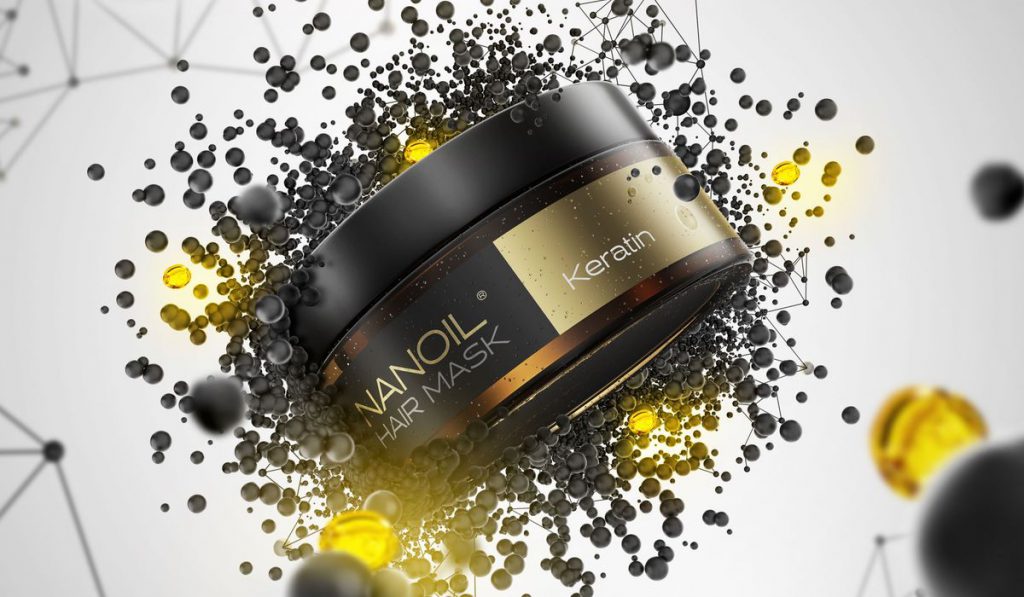 Are you dreaming of lovely hair? You've been testing all remedies and products but your hair isn't getting any better anyway? You probably haven't tried the Nanoil Keratin Hair Mask yet but you should! It turns out to be a game-changer that lets you keep the hair healthy and glossy!
What does the Nanoil Keratin Hair Mask actually do?
This foolproof keratin hair mask tames unruly strands, seals the cuticles and rebuilds damage. Better hair doesn't have to cost a fortune. You can make it smooth, luminous and enviable in the privacy of your own home.
Nanoil Keratin Hair Mask: components
All other products failed? Try the Nanoil Keratin Hair Mask. With the hydrolyzed keratin and provitamin B5 (panthenol) it stands out against other masks, repairing damage at a blistering pace and giving great results after the first usage.
Hydrolyzed type of keratin makes the hair absorb the product way better so it can fully repair it from the roots to the tips. You can effortlessly tame unruly strands and the hair will no longer be brittle or split.
Results you get with the Nanoil Keratin Hair Mask
The effect that the Nanoil Keratin Hair Mask produces is surprising. Our hair has a high requirement for protein while this protein-rich product is absorbed into the deepest hair layers, nourishing them intensively.
The Nanoil Keratin Hair Mask builds a foolproof shield to weather proof the hair and keep it safe from physical and chemical damage. Are you dreaming of healthy tresses that amaze with shine? Here you go!
The hydrolyzed particles of keratin have enough power to fix the most damaged hair needing intense repair. Make you strands resilient and luminous with the Nanoil Keratin Hair Mask.
How to use the Nanoil Keratin Hair Mask?
Above all else, use it systematically for 3 weeks to get the dream hair. The usage is very simple: leave the mask in for 20 minutes once or twice a week, and wash it out well.
The amount you get is enough to perform a three-week treatment and then keep using it for longer. A convenient, beautiful jar with a golden teardrop pleases the eye!
What hair type is the Nanoil Keratin Mask designed for?
This pro keratin mask is made for people bothered by splitting, damaged strands that have been color-treated or chemically-processed and so their structure is in a bad condition. However, if you can boast healthy tresses, this product makes a perfect anti-damage choice. It shields against damage, heat styling and weather conditions.
Reviews of Nanoil Keratin Hair Mask
Apart from girls fighting for lovely tresses, professionals like to use it as well. The repair process is shockingly short and no other mask can give you that. Besides that, the easiness of application is surprising too.
Resilient, smooth hair doesn't have to be just a dream – you can get it if you go for the Nanoil Keratin Hair Mask. There is no better companion that will aid you in turning the hair around.
20 minutes per week – the mask revitalizes the hair at an express pace. Even those with really high expectations report they are very happy with the results – once they thought their strands were unfixable!
The light formula is perfectly absorbed so it doesn't weigh down the strands. Your hair will be visibly thicker and shinier while the ends will no longer split or break. Isn't that all you want a mask to do?
We could list the benefits endlessly but the best thing is the mask fixes the inner structures so the repair is really powerful. Easy application for 100% effectiveness – this is what you get by choosing the top-rated Nanoil Keratin Hair Mask.
Where to buy this marvelous keratin hair mask then?
You won't get it in physical stores but it's widely available online. It's a great benefit for some consumers. You don't need to run around the shops seeking an ideal hair mask for long hours.
You no longer need to put up with those split, dry ends. Enjoy lovely hairdo that always looks its best. Start using the foolproof mask and soon healthy hair will be your biggest asset.
Care for your hair with Nanoil and stun everyone with the out-of-this-world tresses!
If you feel like getting more information, go to www.nanoil.us/keratin-hair-mask