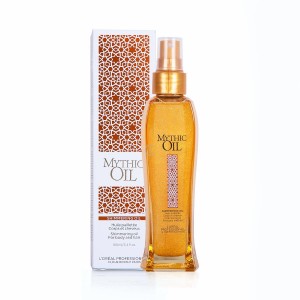 Mythic Oil by L`Oreal Professionnel is recommended for every hair type. Thanks to vitamins, fatty acids and natural oils, the product perfectly takes care of strands and scalp. It can be also useful for hair styling, for home hair condition restoring treatments as well as for conditioning split ends.
Features. L`Oreal Professionnel, Mythic Oil takes care of all hair types, however, it is mostly recommended for weakened and falling-out hair as well as for hydrating dry scalp. Moreover, the cosmetic provides shine and smoothness as well as tames unruly hair. It is also a good product for hairdo styling and protecting strands while exposing them to high temperatures (i.e. blow-drying). What is more, the oil softens strands and makes them pleasant to the touch. Another positive feature of the product is that it protects hair against harmful working of solar radiation, low temperatures, urban pollution, and action of artificial substances included into composition of some hair care cosmetics.
Composition. Mythic Oil by L`Oreal Professionnel contains very important and crucial for hair rebuilding processes ingredients. These substances are avocado oil and grape seed oil. The first ingredient contains A, B1, B2 and D vitamin as well as Omega-3 and Omega-6. Its composition is similar to natural protective lipid barrier of skin, which is why, it is able to take care of hair even more efficiently. When it comes to the grape seed oil, it has anti-oxygenating and relieving action.
Additionally, the oil contains silicones, due to which, all of the above-mentioned ingredients are able to nourish hair faster.
Application. L`Oreal Professionnel, Mythic Oil can be applied on damp hair. It has to be rubbed into mid-length of hair and worked its way down to ends. The cosmetic can be also put on dry hair to protect hair ends, smooth strands or style a hairdo. The oil is also useful for shielding hair against high temperatures produced by hair styling devices. If a product gets into eyes, they have to be rinsed with water immediately.
Package. L`Oreal Professionnel, Mythic Oil is closed in a 100 ml bottle. The package is ended with a spray dispenser. The cosmetic is very efficient since it is consumed within two years.
Flavour and colour. L`Oreal Professionnel, Mythic Oil is characterized by a pleasant scent, which lingers on hair all day. The product is transparent, therefore, it does not stain clothing nor scalp.